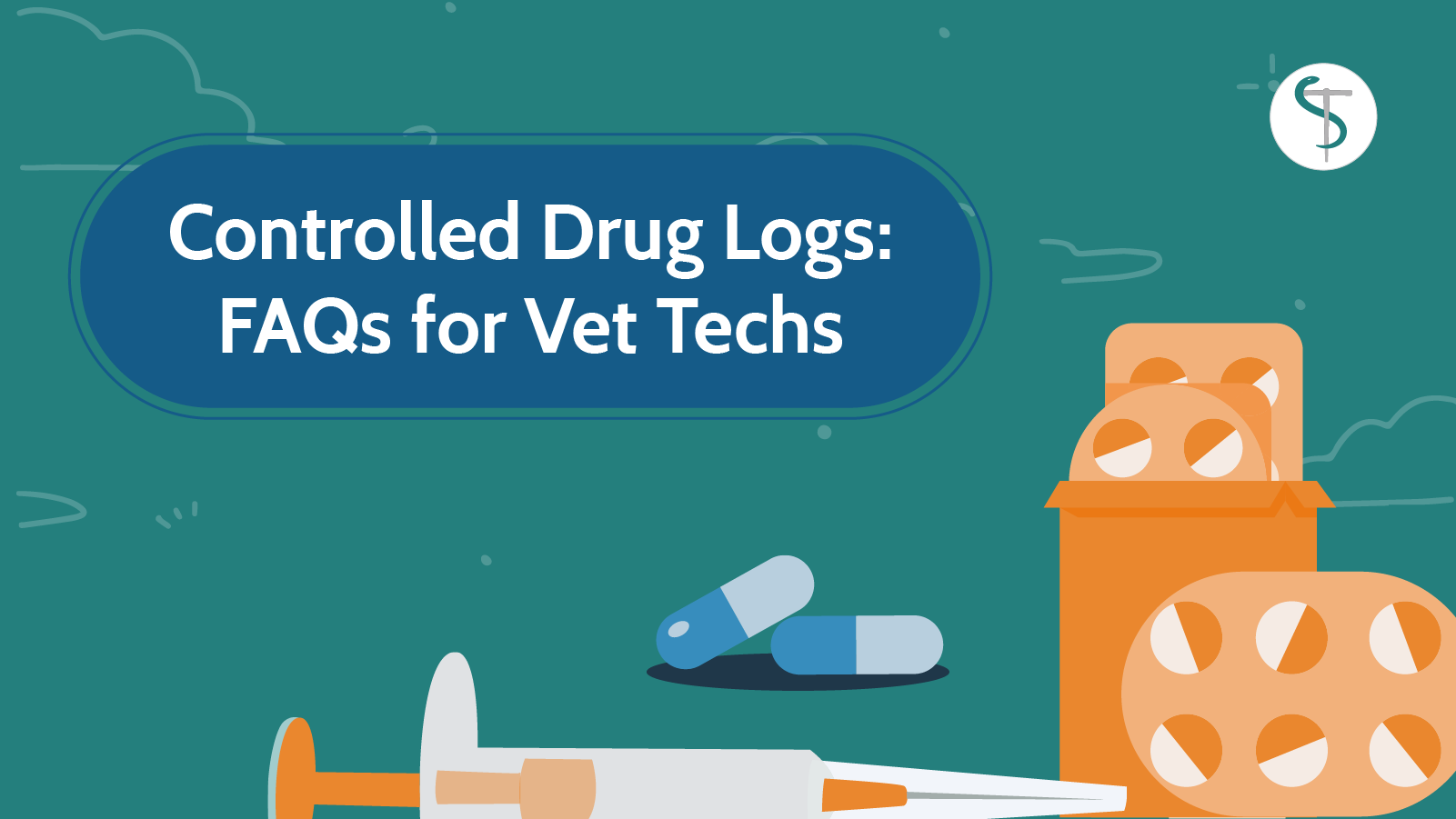 While controlled drug logs are primarily the responsibility of the veterinarian (after all, it's their DEA license that's associated with the controlled drug box), many vet techs also play a role in logging controlled drugs.
If your responsibilities include anesthesia and/or surgery, you will likely be handling controlled drugs on a regular basis, and you will need to log them accordingly.
What information belongs in a controlled drug log?
Any time you dispense or administer a controlled drug, you need to log the following information:
Date of activity/transaction
Client name
Patient name
Name of drug
Quantity of drug
Remaining drug balance
Prescribing veterinarian's name
Your initials (or the initials of whoever administered/dispensed the drug)
The information in the drug log needs to match what's in the patient's medical record. For example, if you log that a patient was given 0.4 ml of butorphanol in the drug log, the patient's medical record should contain the same information.
How do I log a drug that is given "to effect?"
When performing anesthesia, it's not uncommon to pull up a calculated amount of an injectable drug and then give that drug "to effect," or until the pet is anesthetized enough for you to pass an endotracheal tube. In this case, your entry in the drug log should reflect the entire amount of medication that you drew up in the syringe. In the patient's medical record, you need to clearly state both how much of the drug was drawn up and how much was actually administered to the patient.
Can a 3-ring binder be used as a drug log?
Technically, yes. However, one of the most important characteristics of a drug log is that it should not be subject to tampering. For this reason, bound drug logs are a better choice. Loose-leaf drug logs are technically permissible according to DEA guidelines, but someone could easily tamper with the log by swapping out a page. Also, even if no one ever tampers with the log, the illusion of tampering could be enough to trigger problems during a DEA inspection. In addition to using a bound log, drugs should also be logged in blue or black pen (not pencil).
Is it okay to use our practice management software's controlled drug log?
Yes. While a traditional, paper drug log is still used by many practices, computerized options are also available. Some software programs allow you to simultaneously enter controlled drugs in the patient's medical record and the drug log, saving time and reducing the likelihood of errors.
If you're using a computerized drug log, you must be able to print a copy of the log in the event of an inspection. That printed log must contain all of the information listed above.
How often should we inventory our controlled drugs?
The DEA requires veterinary practices to perform controlled substance inventories at least every two years. Unfortunately, a lot can go wrong in two years! Instead, controlled drug inventories should be performed at least once quarterly. Also, keep an eye on controlled drug quantities any time you are withdrawing a controlled substance from the drug box. If you're drawing up an injectable medication and notice that half the bottle is missing when it's supposed to be 80% full, call the discrepancy to the veterinarian's attention immediately. Finding an error will be easier if you don't wait too long!
How do I unpack an inventory order that contains controlled drugs?
Controlled drugs typically ship in separate boxes from non-controlled inventory. Depending on your practice's policies, you will likely hand these shipments off directly to a veterinarian or to the veterinary technician who is in charge of your practice's controlled substance inventory. The amount of controlled substances received must be entered in the drug log and added to the balance. Invoices must also be stored with the drug log, so be sure they remain with the controlled drugs!
Conclusion
In many practices, a surprisingly large amount of time and effort goes into controlled drug ordering, logging, and inventories. Take the time to understand controlled drug guidelines early in your career as a vet tech to minimize the amount of headaches and frustrations that these guidelines will give you in the coming years!