Even if you do not work in an emergency setting, emergencies will inevitably arrive at the doorstep of your daytime practice.
It is important to recognize an emergency, and more importantly a critical patient, so that immediately life-threatening problems can be quickly addressed.
Technicians are often the first point of contact with pet patients and should know how to appropriately assess a patient to know if it is stable. If a pet is not stable and in a life threatening condition, the veterinarian should be immediately contacted and the patient should receive immediate medical attention.
What should I do as a veterinary technician?
1) DON'T PANIC. It is important to remain calm in an emergency situation. Remaining calm allows you to think more clearly which will allow you to take the proper steps in assisting the veterinarian.
2) When approaching a potential critical patient, first address the owner while you begin checking on the patient. "Hello, my name is Jane and I am here to help you with your dog". Check the pet's gum color, mentation, any wounds, and respirations. Try to ascertain a basic history to find out what happened to the pet and obtain information from the owners during your assessment.
3) Respiratory distress is one of the most important problems to recognize. If the pet has pale or bluish gums or is having difficulty breathing, this is an immediate emergency. Tell the owner that you are concerned about their pet and will take their pet and start oxygen while getting the veterinarian ASAP.
4) Most veterinarians will likely want you to place an IV catheter when a patient is truly critical so that IV access is immediately available. Talk to your staff and determine a plan for this type of instance. After the pet has been addressed initially, another staff member should discuss CPR status for the pet and determine the owner's wishes for resuscitation should cardiac arrest occur. Some places may require a financial emergency deposit so that emergency care can be started. After the patient has been assessed by the veterinarian, a real estimate can be provided that will address what treatment and diagnostics the pet will need. The veterinarian will speak with the owners as soon as possible once stabilization of the patient has begun to inform them more about cost, potential outcomes, and prognosis for their pet's situation.
Triage is essentially determining which patient is the most critical and caring for them first. The following is a list of critical patients.
Determine the order of triage:
a) 8 yr male neutered dog, hit by a car. Has a wound in the back left leg. Gums are pink and the dog is ambulatory.
b) 4 yr male neutered cat. Extremely weak, not ambulatory. History of straining in the litter box the day prior and not passing urine. Gums are pink.
c) 2 yr female spayed dog. Playing in the backyard and swollen face when she came inside. The owner saw a bee outside earlier. Gums are pink, dog is a little depressed but alert, heart rate is 120, normal respirations.
d) 7 week old female Chihuahua puppy. Hasn't eaten all day. Wobbly when walking, temperature is 99.9, gums are a little pale. No history of vomiting or diarrhea.
e) 10 yr male neutered dog. Had a seizure that lasted about 2 minutes this morning. Vitals are normal.
Patients should be treated in this order:
1) The cat who is not urinating and is weak is the most critical. Even though technicians do not diagnose patients, it is important to know about urethral obstructions in male cats. If
they get blocked, the potassium in the blood stream climbs and puts them at risk for cardiac arrest. The pressure and obstruction need to be relieved ASAP.
2) The tiny puppy that is wobbly and hasn't eaten may have a low blood sugar and should also be seen ASAP. Notify the vet and ask for instructions. You can likely tend to this puppy while the vet is working on the obstructed cat. He/she may request a blood sugar and ask you to give some oral dextrose or offer a canned food until the pet can be examined.
3) The dog with the swollen face is likely having an allergic reaction. This could be life- threatening and if the dog was collapsed may need to be triaged first. The dog listed in this
scenario has normal gum color and has normal vitals, so this dog is stable despite the appearance of the swollen face. Also, watch for respiratory distress in a dog such as this. The swelling can also cause inflammation in the throat region and could cause respiratory problems.
4) The hit by car patient is apparently stable despite his wound and trauma. (A patient who is hit by a car and is having respiratory distress should be triaged first.) Respiratory distress is always an emergency!!!
5) The dog who had a seizure yesterday is stable and should be seen last. (A dog that is actively seizing should be triaged first).
What if a hit by car pet in respiratory distress and an actively seizing dog arrive simultaneously? Put the respiratory distress patient on oxygen and try to calm them. The seizures need to be stopped first.
As you can see, many scenarios may occur. Luckily, unless you work in an emergency practice, you will rarely see this many critical simultaneous emergencies. The best thing to do is to assess each patient, notify the veterinarian of their status, and follow instructions to help get all patients treated in a timely manner.
The Top 15 Tips and Tricks for Studying for the VTNE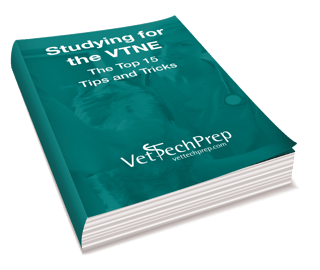 You're of course going to need to study a ton to nail the test, but there are a lot of tips and tricks that will help you make the most of your study time and we've packaged those up in a free guide.
Some of the Top 15 Tips include:
Familiarize Yourself with the Test Format
Tackle the Weak Subjects Early
Start Sooner and Ease Into It
...and 12 more!