I recently attended a Continuing Education meeting on The Team Approach to Veterinary Dentistry, which was given by Dr. Mike Balke, who is a Fellow of the Academy of Veterinary Dentistry at AZ Veterinary Dental Specialists.
He presented some very interesting and valuable information that I wanted to pass along to our blog readers, because I think these ideas are something that as veterinary technicians you can help implement in the practices where you work.
We all know the many, many reasons that clients decline dentistry procedures for their pets. How can we get past these hurdles to help our patients get the care that they need? All pets over the age of 3 have some form of periodontal disease.
Here are some tips from Dr. Balke:
How to start a compliance improvement program:
Step 1: Establish a baseline compliance level for dental procedures over a set period of time. Set a goal and determine a reward if that goal is met. (Do you actually know how many people you recommend dentals to actually schedule the procedure?)
Step 2: Make sure everyone knows the guidelines and protocols. It is imperative that all the team members buy in to the plan. Improving compliance will be a shared responsibility that all team members will be accountable for results.
Step3: Prepare for the client visit. Determine each team member's role, staff training, role play. Development of a checklist that all team members use to promote compliance can be very helpful.
Step 4: Educate and communicate with clients. Be sure you inform clients why dental health is important, they just think it is only dirty teeth, not a serious disease. When multiple team members emphasize the importance of dental health it can make a big impression on the client. Have educational tools (brochures, handouts, websites) you can provide the owner. The websites avdc.org and azvetdentists.com (patient resources link) are both great resources you can offer to clients!
Step 5: Follow up with clients. Ideally schedule the procedure before the client leaves. If a procedure is not scheduled you must have a good reminder system to follow up on recommendations.
Step 6: Sustain the initiative: The compliance-improvement program should be maintained year round and monitored frequently. The more frequently compliance is monitored the more successful the program will be. It is important to have ongoing staff training to improve the program and maintain enthusiasm.
Set rewards for meeting your compliance goals. You should talk to your practice manager or veterinarian about goals and rewards for your team. If the team has an incentive, it makes it a little more fun and productive for everyone. Dental health is immensely important and you can feel good about helping as many pets with oral health as possible.
The Top 15 Tips and Tricks for Studying for the VTNE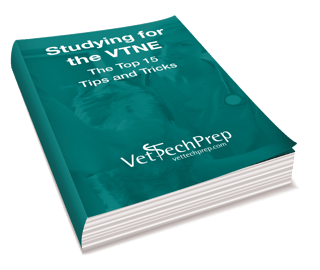 You're of course going to need to study a ton to nail the test, but there are a lot of tips and tricks that will help you make the most of your study time and we've packaged those up in a free guide.
Some of the Top 15 Tips include:
Familiarize Yourself with the Test Format
Tackle the Weak Subjects Early
Start Sooner and Ease Into It
...and 12 more!