This month we are featuring registered veterinary technician Jennifer Katz! She has been in practice for 15 years and we hope you will enjoy learning about her path in veterinary medicine.
She offers some wonderful words of wisdom to those in their journey to being a veterinary technician.
VTP: How did you find your way into veterinary medicine?
JK: I started working at my first general practice 15 years ago. As a kid, I always thought about being a veterinarian or marine biologist. When it came to the blood and guts of it all, I got squeamish and decided to pursue other avenues and spent quite a few years in retail and customer service management. When we moved to San Diego, I decided to take a "fun" job as a receptionist at a veterinary hospital to have some time around animals. Two months after starting, I was given the opportunity to give the back of the hospital a try and I LOVED it! I was so surprised at how I was able to handle the things that made me squeamish. Luckily, this general practice relied heavily on their technical staff and I received great on the job training. I was also provided with the opportunity to attend a lot of CE events.
VTP: How has your initial experience evolved? Did you decide to pursue schooling as a veterinary technician?
JK: After 4 years at this general practice, I started my 3 year journey in the Veterinary Technician Alternate Route Program at Mesa College. I continued working at my general practice during the day, went to school at night, and worked at an emergency hospital on the weekends. I made the decision to switch to full time at the emergency and specialty practice and split my time between the Internal Medicine and Emergency services. This decision really helped my broaden my scope in vet med, which helped out tremendously while I was in school.
I really enjoy the versatility vet med has to offer. I have been called a "Jack of all trades" on more than one occasion due to my vast experience in many areas of vet med including the work I mentioned at the specialty and emergency hospital, as well as management at a general practice, and management of a hospital/boarding facility. Currently I am working as an RVT on the surgery team at VCA Animal Specialty Group in San Diego, CA.
I truly think that we have the best jobs in the world and have so many opportunities to grow and learn. I love how every day is different and you have to be prepared for everything. Just when you think you have heard it all, some crazy case comes in that blows your mind away!
VTP: What do you like to do outside of work?

JK: When I'm not at work, I can usually be found eating great vegan food with my family or somewhere outside in sunny San Diego. Being in such a great city with so much to offer really helps alleviate the stressors of the job.
VTP: What pets do you have?

JK: I have a Boston Terrier, a Lab/Weimeraner mix and a Maine Coon.
VTP: What do you think is a challenge and how do you embrace it?

JK: Many people assume that euthanasia is the toughest part of the job. I don't feel that way at all. I will say that euthanizing any animal is difficult. I will also say that I feel privileged every time I am able to help end an animal's suffering and help guide their family through one of their toughest moments.
"I always try my hardest to have those final moments be perfect for everyone involved. Be in the moment and never allow it to become routine."
VTP: Any words of wisdom for those preparing to be a vet tech or are considering this as a future job?

JK: Even after 15 years my family and friends still think that I play with puppies and kitties all day. I really wish that were the case. My advice to someone new to the field is to always have your eyes and ears open and be prepared for anything. You will have to handle situations with clients and patients that you never dreamed possible. You will be tested to your core, sometimes on a daily basis. You will be surprised at your strength. You will be surprised at the knowledge tucked way far away in your brain when it decides to show itself. Continue to learn and grow and never allow yourself to become too comfortable and fall into a routine. Learn to trust your intuition. Every patient is an individual with their own set of issues and needs. Trust your instincts and if something doesn't seem right, stop what you are doing and question it.
We will continue to do a monthly "My Vet Tech Story" piece to help inspire students or others who are considering this as a career or are interested in learning more about what vet techs do. You can read the past stories here!

The Top 15 Tips and Tricks for Studying for the VTNE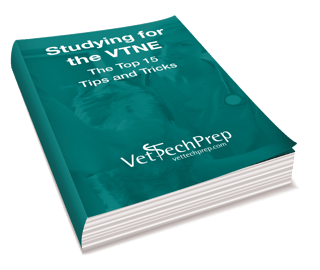 You're of course going to need to study a ton to nail the test, but there are a lot of tips and tricks that will help you make the most of your study time and we've packaged those up in a free guide.
Some of the Top 15 Tips include:
Familiarize Yourself with the Test Format
Tackle the Weak Subjects Early
Start Sooner and Ease Into It
...and 12 more!