This month we are very happy to share the story of a Large Animal Vet Tech! She is an inspiration and we know you will enjoy her story!
After reading her story, be sure to check out her feature from Wilson College: What It's Like To Be An Equine Veterinary Medical Technician

VTP: When did you become a vet tech and how has your experience evolved into what it is today?
SR: I have been a Licensed Veterinary Technician for 14 years. I started working in veterinary practice when I was 14 years old, volunteering my time cleaning cages and bathing dogs in my hometown of Queens, NYC. Through high school I worked as a kennel attendant and veterinary assistant on the weekends and through the summers.
I was also a groom and trail guide at a local riding stable. I knew from an early age that my passion was with animals; of course initially I thought I wanted to be a veterinarian until I came across the field of veterinary technology/veterinary nursing and that was more appealing to the caretaker side of me.
I sought out a Bachelor's degree program rather than an Associate's Degree as I thought it would help me in the long run. I attended Wilson College in Chambersburg, PA for 5 years, completing a Bachelor's of Science with a double major in Veterinary Medical Technology and Equine Studies with a minor in Small Business Management & Entrepreneurship. I did the double major because my passion lies both with veterinary medicine and with horses, my overall plan was to combine the two and work in equine medicine.
Since this time, I've worked in several practices including small animal general practice, small animal emergency practice, equine private practice, and university equine practice. I currently work in small animal surgical referral practice in a large multi-specialty hospital in Northern Virginia and reside in West Virginia.
I was, at one point, Anesthesia Supervisor at Marion duPont Scott Equine Hospital of Virginia-Maryland Regional College of Veterinary Medicine. This was by far my favorite position and what I would consider the highlight of my career. I am working in small animal surgery due to several personal and business-related reasons but I am enjoying this position as well.
Anesthesia has always been my favorite aspect of medicine and what I would consider my specialty, so I took that one large step further and in 2009, after a rigorous application and board-examination process, obtained my Veterinary Technician Specialty in Anesthesia. Being board certified in anesthesia has opened several doors to me; I have since published a journal article, several textbook chapters and have given several continuing education lectures.
VTP: How do you cope with job-related stress?
SR: I spent ten years training in Tae Kwon Do and obtained my black belt in 2009. That was a huge stress relief! While I cannot participate in this sport anymore due to physical ailments, I continue to exercise in other ways. I also spend time with my new husband, my horse and our dog. Horseback riding has always been a passion of mine so I was very excited to get a horse of my own when I was 34 years old! My husband and I both enjoy horses, riding on our Harley, working on our house and taking our camper to new places.
VTP: What pets do you have? Any stories on how you got them?
SR: I have an 11 year old beagle/lab mix named Roxy. I obtained her when she was 6 months old from a shelter in which I was volunteering at the time as a dog-walker. She has been with me through many phases of my life. I also have a 13 year old paint gelding named Dash who is blind in one eye. I rescued him from an auction house in Pennsylvania that is notorious for being a slaughter auction. He is wonderful and lives a good life.
VTP: What is your favorite duty in your job? What is it about your specific job that makes you happy and feel valued?
SR: My favorite duty is anesthesia and always has been. When the animal has a successful anesthetic event and recovers well, I know I have done my job. Anesthesia is always challenging as things are constantly changing within that particular patient. I am constantly thinking, monitoring, making decisions and collaborating with the veterinarian on decisions with that particular patient. Anesthesia, to me, is an art as well as a science; there are always things to learn and one should know all that they can to provide the best care possible but the art side of things come in with fine tuning of your own skills, fine tuning things with the patient and "listening" to what your patient needs.
VTP: Any words of wisdom for those preparing to be a vet tech or are considering this as a future job?
SR: I believe it is very important for someone interested in this field to work within a veterinary practice before deciding to attend a veterinary technology program. That can be in the form of volunteering, shadowing a licensed technician and/or veterinarian or working as an assistant.
I have done all of them and they all gave me a good understanding of what is involved in being a veterinary technician. While veterinary medicine can be very rewarding, is it not for the faint of heart. Be prepared to get dirty, be prepared to have to do the unpleasant things but also be prepared for happy endings!
While this is a very rewarding field, I really feel that future technicians should have a financial plan as it is typically not a high-paying field. Working in a specialty practice (internal medicine, surgery, oncology, etc. ) will usually yield a higher wage; also, I recommend pursuing a Veterinary Technician Specialty in whichever area of medicine you feel passionate about. Anything you can do to increase your skill level and marketability will be helpful in the long run. Also, the longevity in this field is variable but averages at 10-15 years so I would certainly have a "plan B" for a possible career change. Personally,
I have not worked in another field outside of veterinary medicine in my entire adult life. It is the only thing I've ever wanted to do and I cannot really see myself doing anything else. I don't know how well I will be getting up and down off the floor at 50+ years old, but you never know!
The Top 15 Tips and Tricks for Studying for the VTNE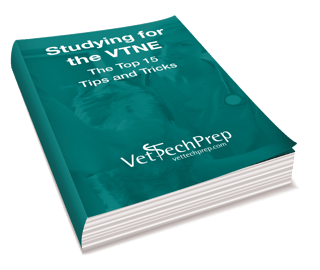 You're of course going to need to study a ton to nail the test, but there are a lot of tips and tricks that will help you make the most of your study time and we've packaged those up in a free guide.
Some of the Top 15 Tips include:
Familiarize Yourself with the Test Format
Tackle the Weak Subjects Early
Start Sooner and Ease Into It
...and 12 more!