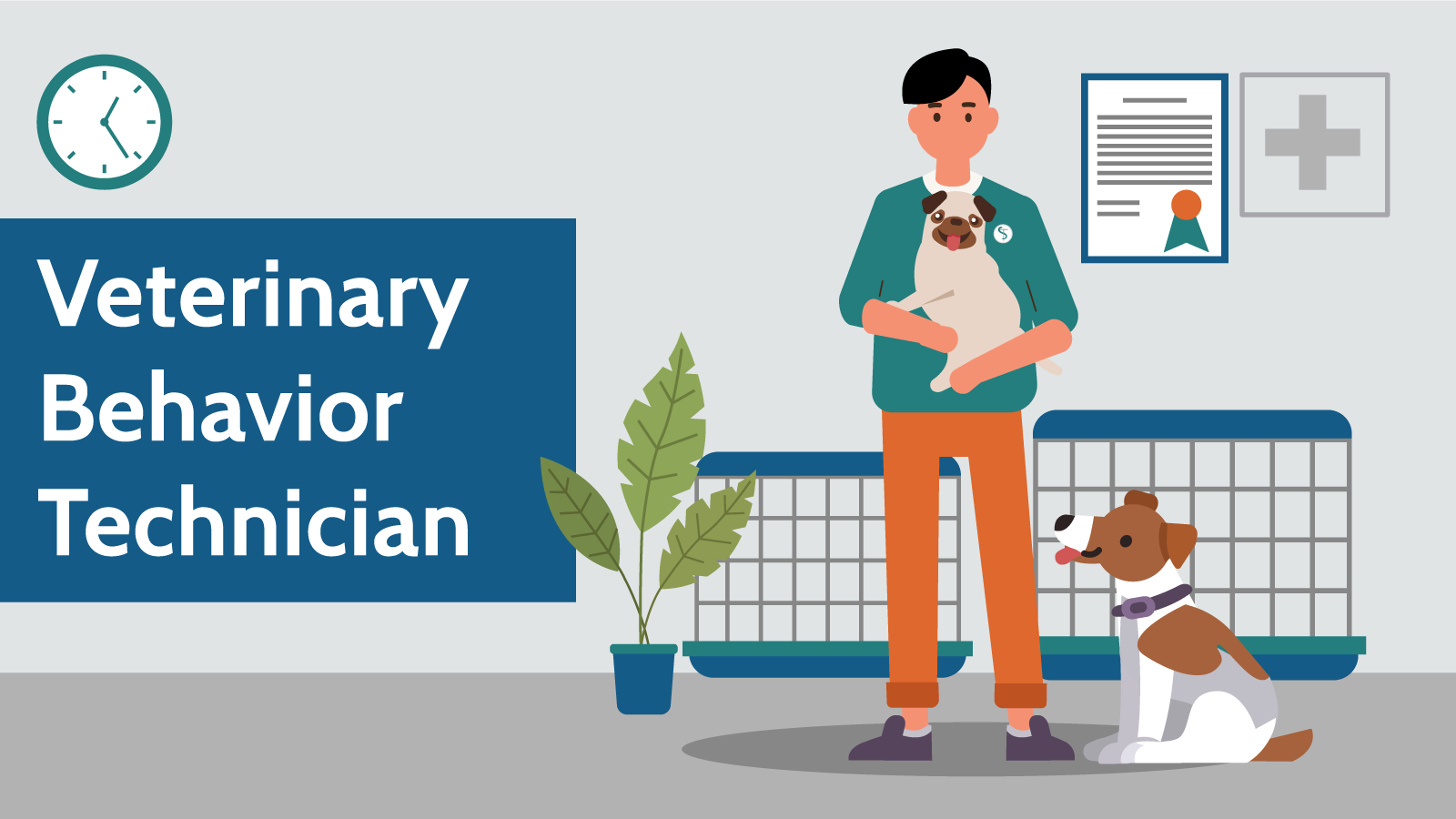 Veterinary behavior is an interesting field, as well as an important one. Behavioral issues are the number one reason that dogs are relinquished to animal shelters and the second most common that cats are relinquished to shelters.1
Once these animals enter shelters, they may be adopted and re-homed... but pets with serious behavior problems face an increased risk of euthanasia. Behavioral interventions not only improve the quality of life for pets and their owners, but can also be a life-saving treatment.

What do veterinary behavior technicians do?
Veterinary behavior technicians work in a variety of roles, in practice and non-practice settings.
In general practice, veterinary behavior technicians may work alongside the doctors to help them tackle behavior cases. These technicians may perform telephone triage, conduct puppy socialization classes, work with reputable trainers to assist clients with specific behavioral concerns, and educate clients on how to complete the behavior modification plans prescribed by the veterinarian.
Veterinary behaviorists (veterinarians who specialize in animal behavior) also employ veterinary behavior technicians. These behaviorists see challenging behavior cases, referred by general practitioners. Vet techs perform similar duties to those working with behavior cases in general practice, but their caseload will focus almost entirely on the treatment of existing behavioral problems, not prevention. Additionally, the behavior issues treated in this setting tend to be more severe than those addressed in general practice.
Finally, veterinary behavior technicians may work in non-practice settings. These vet techs may work in a zoo, ensuring that animals receive adequate enrichment and helping to enact training protocols. They may work for a research facility, ensuring animal welfare and assisting researchers in study design. They may work in animal shelters, taking steps to prevent behavioral problems in shelter pets while providing basic training that can increase a pet's likelihood of adoption. They may also work for animal welfare organizations, providing insight into the mental needs of various animal species.
What training is required?
The Academy of Veterinary Behavior Technicians (AVBT) oversees the credentialing of veterinary behavior technicians. Once a vet tech completes the necessary requirements, they are awarded the title of Veterinary Technician Specialist (Behavior), or VTS (Behavior), by the National Association of Veterinary Technicians in America (NAVTA).
In order to be admitted to the Academy of Veterinary Behavior Technicians, you must:
Join NAVTA and the Society of Veterinary Behavior Technicians (SVBT).
Gain and document at least three years (4000 hours) of work experience in clinical or research-based animal behavior over the five-year period preceding application.
Complete five case reports.
Complete 40 hours of veterinary behavior CE in the five years preceding application.
Complete a Skills Assessment, under the supervision of a veterinarian or a credentialed veterinary technician. There are two separate skills assessments available; one is for vet techs in a clinical setting and one is for vet techs working in behavior research.
Publish at least one peer-reviewed journal article on a topic in veterinary behavior.
Obtain two letters of recommendation from a board-certified veterinary behaviorist, a supporting veterinarian, and/or a VTS (Behavior).2
Once these requirements are met, you will submit your application packet to the AVBT. If your application is approved, you will be offered the opportunity to sit for the AVBT examination. Passing this exam is the final step on the path to being recognized as a VTS (Behavior).
Are there other options for techs who love behavior?
If you're interested in behavior but not necessarily looking to specialize, there are a number of other options available.
The Society of Veterinary Behavior Technicians (SVBT) is an excellent resource for behavioral information and continuing education. Membership options are available for credentialed vet techs, vet tech students, and other paraprofessional staff.3
Low Stress Handling® University is a program dedicated to teaching veterinary teams about methods of reducing patient stress within the veterinary clinic.4 This program is based upon the work of the late Dr. Sophia Yin. In addition to individual courses, a certification program for veterinary team members is available.
Fear Free® is another program, developed in 2016, that seeks to reduce stress in veterinary patients.5 Like Low Stress Handling®, it emphasizes working with canine and feline patients in ways that decrease anxiety. Fear Free® offers certifications to both individual veterinary team members and entire practices, educating these professionals and advertising the use of these techniques to the community.
If you are interested in veterinary behavior, take the opportunity to pursue additional training in this area, so that you can help improve the quality of life for your patients and your clients!
References
Salman MD, et al. 2000. Behavioral Reasons for Relinquishment of Dogs and Cats to 12 Shelters. Journal of Applied Animal Welfare Science, 3:2, 93-106
Academy of Veterinary Behavior Technicians. Become a Specialist. Retrieved from https://avbt.net/membership
Society of Veterinary Behavior Technicians. Become a Member. Retrieved from https://svbt.org/become-a-member/
Low Stress Handling® University. Retrieved from https://lowstresshandling.com/
Fear Free® Pets. What is Fear Free®? Retrieved from https://fearfreepets.com/about/what-is-fear-free/