Almost daily, I have a client tell me that their pet doesn't need a dental because the groomer cleans the teeth. I have also had many clients either take their pets for these "anesthesia free dental cleanings" or ask about them. Veterinary technicians are often asked this question as well. Here are some things to know about so you can properly help to educate clients!
There are 2 main reasons that clients don't want to have a normal dental cleaning in the veterinary hospital. Those are cost and fear of anesthesia. This means that the owner has to understand the need, value, and risk for their pet in order to want to do the dental.
First let's address what an anesthesia free cleaning is exactly.
The pet is restrained, and some pets will require more restraint than others. This is not the same as humans going to the dentist. We have the ability to understand what is happening to us. Animals do not understand being physically restrained while sharp instruments are being poked in their often painful mouths.
The calculus/tartar is hand scaled off of the teeth superficially, but deep cleaning under the gumline is not achieved. As you know, the problems of dental disease lurk under the gumline, and this is what leads to bone loss, infection, and systemic disease. These anesthesia free cleanings are purely cosmetic.
The scaling of the teeth leaves micro abrasions in the enamel of the teeth, and without proper polishing, this can cause long term damage and build up of the calculus again more quickly.
The gums often bleed, so there is a possibility of seeding of bacteria into the bloodstream as with any dental; providers of this service are not likely to prescribe antibiotics.
It is common for pets to have diseased teeth that may need to be extracted, which is not done with this procedure. Nor can teeth be properly evaluated, as x-rays are not performed.
Now, let's talk about the anesthesia. Nothing is without risk, but the drugs we use now are much safer than they used to be. Here is a post I wrote that extensively talks about how to communicate with clients about anesthesia that is worth a read if you haven't checked it out yet: Talking to Clients About Anesthesia. We do anesthesia on a daily basis so this is helpful not just for dentals but for all anesthetic procedures, especially when dealing with clients who have anxiety or concerns about their pets undergoing a procedure.
Cost is often a concern. Does your hospital have a yearly dental special? Do you offer Care Credit or other payment options? Provide an estimate to the client, without making them feel pressured, to look over and consider. I always tell them that it is not an emergency but is important. If they know the importance or the value, they are more likely to schedule.
The value of a legit anesthetic dental cleaning.
The Top 15 Tips and Tricks for Studying for the VTNE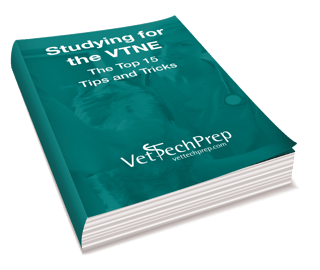 You're of course going to need to study a ton to nail the test, but there are a lot of tips and tricks that will help you make the most of your study time and we've packaged those up in a free guide.
Some of the Top 15 Tips include:
Familiarize Yourself with the Test Format
Tackle the Weak Subjects Early
Start Sooner and Ease Into It
...and 12 more!